Emirates has revealed its new premium economy product and a series of "enhancements" for cabins onboard its newest A380 aircraft.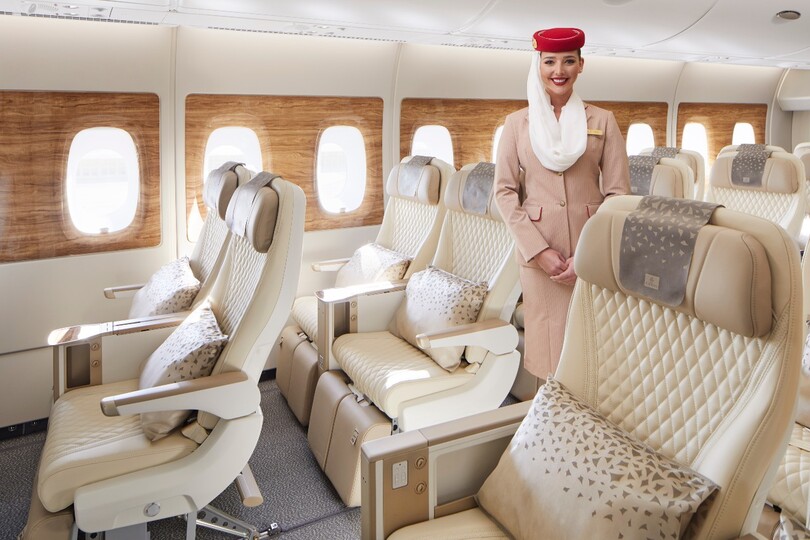 The airline received its latest A380s from Airbus in Hamburg last week and its remaining order will also be delivered with premium economy cabins over 2021 and 2022.
Emirates' premium economy seats will also be installed on some of its Boeing 777X aircraft, which are due to join the fleet in 2023.
It is also considering plans to retrofit its existing A380 fleet and details of where A380 aircraft featuring the new premium economy will be deployed are set to be announced in the coming weeks.
The new cabin offers 56 seats in a 2-4-2 cabin layout with each seat 19.5 inches wide with a 40-inch pitch and a reclining capability of eight inches.
Each seat has a 13.3" screen, which Emirates said was "one of the largest in its class", as well as in-seat charging points, a dining table and side cocktail table.
Meanwhile, Emirates has "enhanced" its 14 first class suites by making them "slightly wider" with taller doors. Cabin detail and finishes have also been refreshed such as modernising fittings in the Shower Spa.
Seats in business have been refreshed, while those in economy have been replaced with ergonomically designed seats that come with full leather headrests and flexible side panels.
Emirates president Tim Clark said: "The Emirates A380 is already one of the most sought-after travel experiences in the skies, and now we've made it even better.
"While others cut back, Emirates is working hard to restore the products and services that we've had to suspend or adjust due to pandemic precautions and introduce new offerings and enhancements. True to our fly better promise, Emirates continues to invest to offer our customers the best possible experience."